Ohne Kunst kein Bau? | Symposium in Düsseldorf
"Kunst am Bau" (art within architecture) is the theme of the symposium. It thus takes up the current discussion: Currently in the state of North Rhine-Westphalia a Cultural Promotion Act is being developed, which will be adopted by the state parliament in 2013. The law will, among other things include a provision on "Kunst am Bau".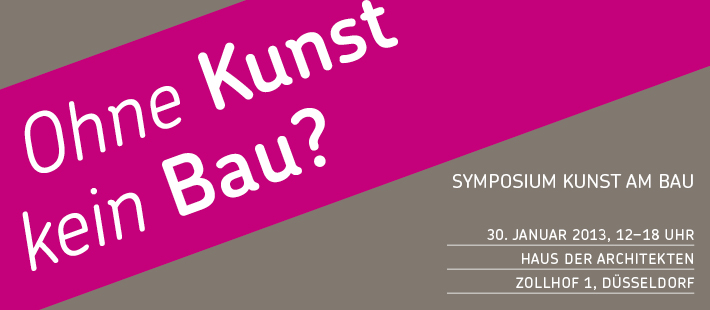 Ohne Kunst kein Bau?
Symposium am 30. Januar 2013, ab 12 Uhr,
Haus der Architekten Düsseldorf
Mehr unter: M:AI www.mai.nrw.de
PR-Text: "Kunst am Bau"  ist das Thema des Symposiums. Es greift damit die aktuelle Diskussion auf: Derzeit wird in der Landesregierung Nordrhein-Westfalen ein Kulturfördergesetz erarbeitet, das in 2013 im Landtag verabschiedet werden soll. Das Gesetz wird unter anderem eine Bestimmung zum Thema "Kunst am Bau" beinhalten.
Staatlich geförderte Kunst an und in öffentlichen Gebäuden und in deren Umfeld geht in Deutschland zurück auf einen Erlass der preußischen Regierung im Jahre 1928. Diesem Impuls folgend beschloss der Deutsche Bundestag 1950, für öffentliche Gebäude einen bestimmten Prozentsatz der Bausumme für Kunst aufzuwenden. Viele Länder folgten dem Beispiel des Bundes. Eine gesetzliche Verpflichtung, bei öffentlichen Bauaufträgen einen Prozentsatz der Bausumme für Kunst aufzuwenden, gibt es zurzeit aber in NRW nicht. Ferner fehlen Leitlinien, wie Künstler und Künstlerinnen in Planungsprozesse eingebunden werden können.
Die Veranstaltung möchte die unterschiedlichen Sichtweisen von Künstlern, Architekten, Stadtplanern, Auftraggebern und Kulturschaffenden zusammenführen, Wege für einen gemeinsamen Planungsprozess ausleuchten und den Diskurs zur neuen Gesetzesvorlage beleben. Zum Programm: Die Ministerin für Familie, Kinder, Jugend, Kultur und Sport des Landes Nordrhein-Westfalen, Ute Schäfer, wird zu Beginn auf das Thema einstimmen. Martin Seidel, Kunst- und Architekturpublizist, wirft in seinem Impulsreferat unter dem Motto "Kunst am Bau – Klotz am Bein?" einen Blick auf das historische und derzeitige Spektrum und die Möglichkeiten der Begegnung von Kunst und Architektur. Schließlich werden Vertreter von Verbänden, Künstler, Architekten und Bauherrn sich der Diskussion stellen. Die Schlussbetrachtung erfolgt von Gerhart Baum, Sprecher des Kulturrats NRW.
Durchgeführt wird das Symposium zusammen mit der Architektenkammer NRW. Auf der Website des M:AI sind weitere Informationen vorhanden, u. a. das komplette Programm (auch in der Einladung im Anhang) und Stellungnahmen von Künstlern und Architekten zum Thema "Kunst am Bau": www.mai.nrw.de. Anmeldung unter info@mai.nrw. de erforderlich!